I'm so thrilled to introduce you to our last 'What I Love' guest! Becca and I bonded immediately over our love of one thing: DISNEYLAND!! If you have ever been to Disneyland or have ever wanted to go, Becca's blog is the place to be!!! (Other than Disneyland of course.) :)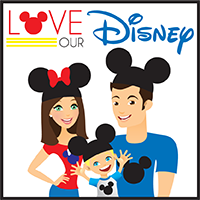 Becca was born, raised, and resides in Boise, Idaho. She is a wife, mother, photographer, full time student, and the owner and creator of Love Our Disney. She blogs about all things Disney. From craft tutorials to save money tips- if it has to do with Disney, she does it. She enjoys travel, crafting, camping, and of course- Disney!
Name your favorite...
-Restaurant: Oh goodness, I would have to say PF Changs right now
-Vacation Spot:Disneyland of course!
-Favorite thing about where you live: There is so much beautiful nature so close by.
-Book: I just started reading The Fever Series and I love it!
-Love song: "Love Like Crazy" by Lee Brice
-Movie: I am a Disney nerd- current favorite is a tie between Tangled and Brave
-Food:Honestly- I don't have one!
-Color: Eggplant Purple
-Color/pattern to craft with: Disney colors and patterns
-favorite medium to craft with: Fabric
-accessory: I hardly ever wear accessories! I am a minimalist. I don't even have pierced ears. I don't carry a purse either!
-clothing item: My yoga pants. I could live in them 24/7
-Valentine's Day treat: A good box of chocolates!
-Valentine's Day movie:I don't watch a lot of lovey-dovey movies. But I love Sweet Home Alabama and How to Lose a Guy in 10 Days- Does that count?
3. What is the best date you've ever been on? I married young- so most of my dates were with my husband, and they mostly consist of movies or football games, but one time he surprised me with a trip out of town for the weekend to the Oregon Coast.
4. Who is your current Blog Crush? Oh, I have so many. If I have to choose I would say "Create. Craft. Love."
5. What is the all-time favorite post you've written and why?
Probably my favorite post I have done would have to be my Disney Autograph Book Tutorial. I just love creating personal items for park visits that are of great quality. My Disney onthe Cheap posts are a very close second.
6. What is your favorite Valentine's Day post?
Well, since this is my first Valentine's Day with my blog and I just shared 1 printable, I would have to say I love One Artsy Mama's Valentines Blocks post. It is so funny and the project turned out SO ADORABLE!
7. What are you looking forward to in 2013? I am looking forward to my Blogiversary, getting to know other wonderful bloggers, lots of Disney fun, and so much more!
See what I mean? Isn't she awesome? And let me tell you, she has posts about Disneyland rides, navigating the park with kids and Disney on the cheap!! Love it! Be sure to check her out at the links below! Thanks for joining in on the 'What I Love' series everyone!!!
Love Our Disney can be found on
facebook
,
Twitter
,
Instagram
, and
Pinterest
as well as at
www.loveourdisney.com